United Federation of Planets
Ships of the Starfleet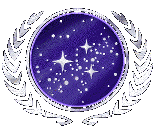 Welcome to Ships of the Starfleet (SOTS) a database within the Ares Expanse Simm Group.
Within, you will find a complete listing of all known Starfleet vessels, classified by their construction class and their commissionning dates. Also included whenever possible are those ship's Captains and service dates. Not only will you find every known Starfleet starship within, but also many RPG/Simm Ships, linked to their own websites, sorted by class. For each class you will find specific specs, schematics and galleries.
SOTS has moved, the links below will re-direct you to our new address at:
http://www.crosswinds.ner/~aresexpanse/sots/

Engage :

*** Also included are RPG based ships and installations.
If you want your Star Trek-based RPG simm ship listed in this database,
Email me (Samuel Parent) the appropriate details. ***

All data compiled by James Dixon and Samuel-F. Parent
(episodes, movies, tech manuals, FASA, novels, etc...)
Last Updated: 10/05/99

Return to the The Ares Expanse